Tons of Terror Taking Place this Halloween Season at Twisted Nightmare of Sioux Falls!
Home » Blog » South Dakota Haunts: An In Depth Look
October 5, 2018 By Haunt News & Press Releases
The Twisted Nightmare
SouthDakotaHauntedHouses.com recently sat down with Chad Barker of Twisted Nightmare, to discuss what's new at the haunt for the 2018 Halloween Season! Located in Sioux Falls, this haunted attraction is sure to get your blood flowing! Read below to find out what's in store for this year.
What's new at Twisted Nightmare for 2018? Do you have any new rides, attractions, or special features that Haunt Seekers should know about?
2018 brings the Twisted Nightmare to new location at the Fraternal Order of Police Lodge east of town on Highway 42. Our talented volunteers have created multiple new animatronics for this years haunt along with a new experience that we do not want to spoil but will leave your heart racing! We also have a new outdoor area that we have not done before.
What are you most excited about for the 2018 Halloween Season?
We are most excited about our new home. A new space means an entirely new layout and experience for everyone including our actors.
What differentiates Twisted Nightmare from other local haunts in South Dakota?
Twisted Nightmare mixes screaming terror with fun moments to lull you into a sense of safety before we scare you again. We really want you to have a great time while being scared and we mix things up through our entire haunt.
How long has Twisted Nightmare been in business? Can you tell us a bit more about Twisted Nightmare's history?
Twisted Nightmare has been around since 2014. Before that it was a personal haunted house out of our garages. But we got so large, we had to expand to a full scale haunted house.
What's your favorite experience since opening Twisted Nightmare?
My favorite experience was the first night I gave tours I had an entire family who had so much fun they came through twice and wanted to take pictures with me afterwards. Then later that week they ended up recognizing my voice and asked if I worked for Twisted Nightmare and were so excited to meet me outside of my costume.
How long is a typical haunt experience at Twisted Nightmare from start to finish?
15-20 minutes.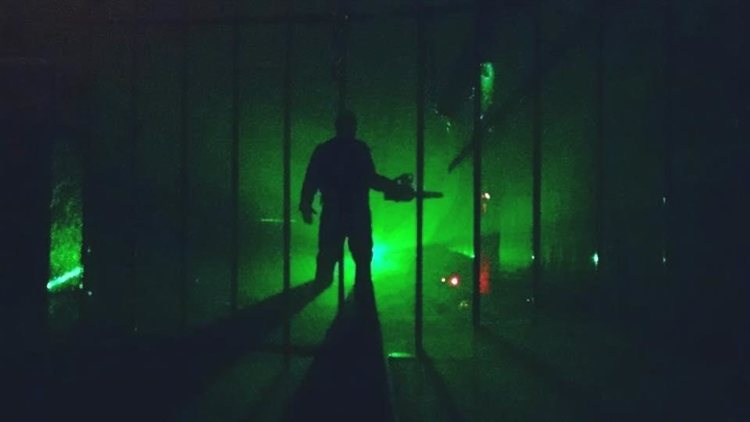 On a scale from 1 to 10, how scary would you say Twisted Nightmare is? Why?
7 - We do everything we can to scare you but we want you to keep coming back! Our actors and props will not touch you.
Does Twisted Nightmare's property have any real haunted history? Do you have a spooky encounter you'd like to share?
No.
What inspired you to open up a haunted attraction? What's your favorite part of the business?
Our love of Halloween and seeing how happy our guests are when we take them through our haunted house. Making someone scream in fear and having them tell you what a great time they had is very rewarding.
How has new technology (i.e. animatronics, special props, etc) helped you to enhance Twisted Nightmare?
Technologies such as PicoBoo controllers have allowed us to create new, complex animatroics each year. Combined with new tools and trusty old technologies we are able to enhance our scare tactics every year.
Can Twisted Nightmare accommodate large groups? How many people can experience Twisted Nightmare together as a group?
We are a tour based haunted house. Meaning we take groups of 4-6 people through at a time. We generally run 3-5 tours at a time.
Does Twisted Nightmare offer any special deals, discounts, or coupons?
Tickets are discounted to $8 if you bring a canned food item for the local food bank. We offer group rates for 25 or more people.